I dip, you dip, we dip… our pita chips in delicious, creamy, garlicky baba ganoush.  If you're looking for an easy dip that sounds exotic, is simple to prepare, and wins you more points for originality than whipping out a container of the ubiquitous hummus, I've got your new favorite right here.  I've been a big fan of baba ganoush for years–my personal preference is to dip into it with chunky pretzel sticks or seasoned pita chips–but until recently I'd never made it for myself.  But we had an eggplant lying around, so I went for it and discovered that it's pretty foolproof.  Try it this Super Bowl Sunday, or, for that matter, any old Sunday; this is a healthy snack dip that even those who think they don't like eggplant, or picky eaters, will love.  Who knows–once you try it, you may never want to go back to hummus!
Baba Ganoush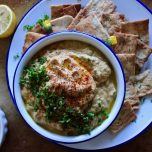 Print This
Ingredients
1 eggplant (look for one with a smooth, glossy surface and no overly soft spots)

4 cloves garlic, peeled and sliced into slivers lengthwise

1 Tablespoon olive oil

1-2 drops Liquid Smoke

2 Tablespoons Tahini

2-3 Tablespoons freshly squeezed lemon juice

1 teaspoon sea salt

1/4 teaspoon freshly ground black pepper

1/2 teaspoon paprika

1/4 cup chopped flat leaf parsley
Instructions
Preheat the oven to 400°.  Using a sharp paring knife, cut little slits at regular intervals along the skin of the eggplant, and insert slivers of garlic.  Brush or rub the surface of the eggplant with the olive oil and liquid smoke and place in a cast iron skillet or on a sheet pan and roast, about 1 hour.  Remove the eggplant from the oven and allow it to cool somewhat.  When the eggplant is cool enough to handle, peel back the skin, leaving the flesh and garlic intact.  Chop roughly, and add to a food processor, discarding the eggplant skin.  Add the remaining olive oil, Tahini, lemon juice, salt, pepper, and most of the paprika–reserving some for garnish.  Pulse to combine, then blend to your desired consistency.  Add the parsley, reserving some for garnish, and pulse to combine.  Remove to a serving bowl, top with the reserved paprika and parsley, and drizzle with additional olive oil if desired.  Serve either at room temperature or chilled with pita chips, pretzels, crudités, or anything you like for dipping!
Notes
If you have access to a charcoal grill or wood-fired oven, you can skip the Liquid Smoke in the recipe--simply preheat the grill or oven to a medium-high indirect heat. Soak some wood chips (available at specialty grocery stores or online--sold as wood chips for barbecues, grills, or smokers) in water, remove from water, and place in a packet of tin foil with several venting holes poked inside. Place alongside the eggplant on the grilling surface for the duration of the cooking time to give your eggplant authentic smoky flavor that will infuse the dip!