Pimiento.  Pimiento.  What-have-you.  The only thing divisive about this delectable, classic Southern spread is the spelling of the little red peppers.  I think of it a bit as the gumbo of the cheese world–everyone has their own, secret, ritualized way of making it, and rarely does that ceremonial mixing of the cheese involve a real recipe.  There are only three Commandments of making Pimiento Cheese, as far as I'm concerned, and they are:
Thou must use fresh cheese and grate it yourself.  Pre-grated is not the same.  Something about the fresh grated cheese allows it to blend together more smoothly.  You might be tempted to take this shortcut–but don't!
Thou shalt use only the best mayonnaise.  That means Duke's.  If you can't find Duke's (which, by the way, is impossible to get outside of the South so I, like other expats, am forced to pay an absurd upcharge and order it over the Internet to the Duke's-desert that is Los Angeles) then Hellman's will do.
Thou shalt not omit the pimientos.  If you are a terminal over-achiever, you could char, skin, seed and dice your own red peppers.  But I, like my forebears, am content to open a fresh jar.
That's it.  On crackers, on crostini; stuffed into a log of celery; in a sinful grilled cheese (with bacon and tomato… just a suggestion) or piled a half-inch thick on a burger… you can't go wrong.  'Cause everything's bettah with cheddah.
Piper's Pimiento Cheese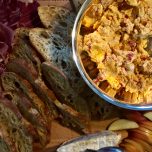 Print This
Ingredients
3 cups sharp cheddar cheese, about 1.5 lbs whole, freshly grated on the large holes of a box grater

1/2 cup good mayonnaise, such as Duke's or Hellman's

1/4 cup cream cheese, at room temperature

1 Tablespoon good sour cream, such as Wallaby

1 teaspoon Worcestershire sauce

2 teaspoons grated shallot

1/4 teaspoon garlic powder

1/4 teaspoon sea salt

1/2 teaspoon freshly ground black pepper

1 8oz. jar diced pimientos, drained

1/2 teaspoon vinegar-based hot sauce, such as Tabasco
Instructions
In a sturdy mixing bowl, or the bowl of an electric mixer fitted with a paddle blade, beat the cream cheese until it is completely smooth.  Add the sour cream, Worcestershire sauce, grated shallot, and the spices, and beat at a low speed until everything is completely combined and smooth.  With the mixer on low, or by hand, slowly add in all the grated cheddar cheese until the mixture is evenly mixed.  Add the drained pimientos and hot sauce and mix until combined.  Store in an airtight container until ready to use.  After refrigeration, allow half an hour for the mixture to warm up before serving.