Like almost everyone I know, I love ramen and eat it often.  I find it even more irresistible when the weather is rainy and chilly.  Then, just try to keep me away from a big bowl of noodles and throat-soothing, savory broth.  I dare you.  I fell in love with ramen in earnest while living in the East Village in New York City.  As luck would have it, the wonderful, postage-stamp sized ramen spot Minca was just a few blocks away.  People came from all over to wait outside, no matter the weather, for a chance to sidle up to their bar overlooking the tiny open kitchen or to squeeze into a table and hunch over a bowl of rich, slurpy, nuclear-hot heaven.  Up to that point, mostly what I knew of ramen was the dried noodles from the grocery store that come with their, shall we say, questionable seasoning packets.  Minca, you can imagine–especially those of y'all who have tasted it–was a revelation.  I have always wanted to try to replicate it at home, but have found making the ramen stock to be intimidating.  And time consuming.  Because, let's call a spade a spade, true authentic ramen stock calls for a lot of ingredients, can take days to prepare, and not many of us have that kind of time and bandwidth.  I know I don't.  But I still wanted to try it, so I approached it more like I do making my standard chicken stock–aka, set it and forget it–which is something I do all the time.  Whenever we have a leftover chicken, basically.  Most of the ingredients listed, I had in my fridge already, and with a slow cooker, the process became much less hands-on than a traditional ramen recipe.  Then, with a simple strain, and the preparation of a few garnishes and, of course, the noodles, presenting a delicious, comforting, and beautiful bowl of ramen becomes feasible for a weeknight dinner.  If you can make chicken stock, you can make ramen!  Happy slurping, y'all.
Simple Shoyu Shrimp Ramen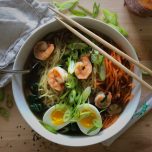 Print This
Ingredients
For the stock:

1/2 cup reduced-sodium soy sauce

1 tablespoon Mirin or sake (rice wine)

1 Tablespoon vegetable oil

1 Tablespoon sesame oil

1 1/2 pounds pork bones

1 pound chicken necks, backs, and/or wings

1 leek, rinsed clean of sand and chopped

2 carrots, large diced

1 head of garlic, halved horizontally

2 teaspoons of fresh ginger, peeled, sliced

1/2 teaspoon sugar

8 cups water

Ramen and Garnishes

1 teaspoon sesame oil

1 cup Shitake or crimini mushrooms, sliced

6 oz. fresh wavy thin ramen noodles*

2 scallions, thinly sliced on the diagonal

1 lb. fresh shrimp, peeled and deveined

8 oz. fresh spinach or baby kale

4 soft-cooked eggs, peeled and halved

1 cup julienned carrots
Instructions
For the Stock:
In a slow-cooker, combine all ingredients.  Set the slow-cooker to high for 8 hours.  When ready to use, strain the stock through a sieve lined with cheesecloth, set over a bowl.  Discard the solids.  Return to the wiped-clean slow-cooker or to a stock pot to keep warm for serving, or chill for later use.
For the Ramen:
Heat a pot of cold water to a rolling boil.  Cook the noodles according to the package directions, usually about 4 minutes for fresh ramen noodles.  Strain and distribute into four bowls, labeling over enough warm broth to nearly cover the noodles.  Meanwhile, in another a sauté pan set over medium-high heat, heat the sesame oil and add the mushrooms.  Sauté until the mushrooms are lightly caramelized and just starting to turn brown around the edges, about 5-7 minutes.  Add the shrimp, stirring often until the shrimp are just cooked through, about 2-3 minutes.  Distribute the spinach and carrots among the four bowls, as well as the mushrooms and shrimp.  Garnish with the halved soft-cooked eggs and sliced scallion.  Enjoy immediately!
Notes
*Many large grocers such as Whole Foods now carry fresh ramen noodles in the cold cases where you would find tofu, but if you can't find fresh noodles, I enjoy Lotus Foods "Rice Ramen" noodles. Try looking in a local Asian market, too!