You might be able to tell that I'm on a little bit of a baking bender lately.  Maybe it's the cold weather (for LA!–I know, I know; I've become pathetically warm blooded, as they say), but I keep finding every excuse to whip up some batter and fire up the oven.  Bran muffins seemed like just the thing the other day, when I needed something portable and breakfast-y for an early morning drive that could mean one of two things: either putting ourselves at the mercy of a hypothetical Starbucks somewhere out in the great beyond, or, bringing something along that we could nibble whenever our appetites kicked in.  I went, shocker, for the latter.  The result was a little bit of a hodgepodge–is it a banana muffin, or a bran muffin?  To blueberry or not to blueberry?–but a delicious hodgepodge.  As a shameless bran muffin lover, I am always tweaking my recipes, hunting for the perfect ratio.  I was delighted with these muffins–and they were just as tasty the next day as they were warm out of the oven.  Besides, they're made with whole wheat flour and bran, so you can feel virtuous despite the cinnamon sugar topping on those nicely domed tops!
Banana Berry Bran Muffins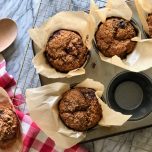 Print This
Ingredients
1 1/2 cup whole wheat flour, plus 1 teaspoon

1 cup wheat bran

1/4 teaspoon sea salt

2 teaspoons baking powder

1/2 teaspoon baking soda

1/3 cup granulated sugar

1 ripe banana

1/4 cup molasses

1 egg

1 teaspoon vanilla

6 Tablespoons melted butter

3/4 cup buttermilk

3/4 cup fresh or frozen blueberries (mixed berries would work fine too!)

Cinnamon Sugar for topping (equal parts cinnamon and sugar)
Instructions
Preheat the oven to 375°.  In a mixing bowl, whisk the whole wheat flour, bran, salt, baking powder, and baking soda to evenly combine.  In another large mixing bowl, mash the banana.  Add the sugar, molasses, egg, and vanilla, and whisk briskly to combine, until the mixture has lightened in color.  Add the melted butter and the buttermilk and stir to combine.  Slowly add the bran mixture to the wet mix and stir carefully to combine.  In a smaller bowl, stir together the 1 teaspoon of flour with the berries, stir until the berries are lightly coated, and carefully fold into the batter.  Line a "jumbo" 6-well muffin tin (otherwise known as " bakery sized") with parchment paper liners, and lightly spritz with baking spray.  Using a large ice cream scoop, evenly fill the muffin cups.  Sprinkle the top of each with 1/2 teaspoon of cinnamon sugar, and bake for 25 minutes or until a toothpick inserted into the center comes out clean.  Enjoy warm, or allow to cool completely before storing in an airtight container, up to two days.