Once I moved to the South, a good chicken salad sandwich quickly turned into one of my favorite standbys for lunchtime.  My first manager took me to lunch at one of his neighborhood favorite spots, Nashville's "The Picnic Café," where they make what I'd consider to be the quintessential chicken salad sandwich.  This is my homage to that delicious recipe, perfect for a "picnic" of your own!
Picnic Chicken Salad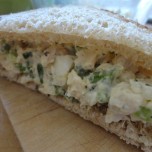 Print This
Ingredients
4 boneless skinless chicken breasts

1 1/2 cups chopped celery

3/4 cup finely minced onion

4 hardboiled eggs, finely chopped

2 Tablespoons Italian parsley, finely minced

2 teaspoons celery seed

1 cup mayonnaise, such as Duke's

1 1/2 teaspoons sea salt

1 teaspoon freshly ground black pepper
Instructions
Add the chicken breasts to a large saucepan and cover with water to a depth of about 2 inches.  Bring to a boil and poach the chicken until it's fully cooked, about 15 minutes.  Remove the chicken breasts and allow them to cool.  Once cool enough to handle, chop the chicken.  Add all ingredients to a bowl and combine until thoroughly mixed.  Chill until ready to use.  Serve as a sandwich spread, atop fresh greens for a salad, or as a filling in a hollowed out rip summer tomato.