The smell of banana bread baking in the oven is one of my all-time favorite things. It takes me right back to the sweetest parts of my childhood–regularly enjoying this treat on early mornings waking up in the backcountry of the ranch where I spent most summers. It was portable and freezable, didn't need to be cooked, and was still delicious even if it got a bit squished at the bottom of someone's pack.
We buy bananas in huge bunches to feed our morning smoothie habit, but even so, often we don't go through them all before they become–there's just no delicate way to say this–really slimy and gross.  But that's exactly when they're at their best to make this moist, just-sweet-enough quickbread that truly tastes of bananas. You can simplify and bake this loaf without the striking decoration of a whole, caramelized half-banana baked into the top, or bake it without the cinnamon sugar topping, but, c'mon, life is short. It should be delicious.
And don't worry—when you have too many bananas to use at any given time, simply remove the peels, wrap the bananas tightly in plastic wrap and freeze them.  They'll defrost beautifully and be perfect for baking into banana bread anytime you are!
Perfect Banana Bread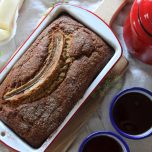 Print This
Ingredients
2 cups mashed ripe bananas (4 bananas), plus half of one banana split lengthwise

¾ cup sugar

6 Tablespoons melted unsalted butter

2 eggs

1/3 cup Greek yogurt

1 Tablespoon vanilla extract

1/4 teaspoon almond extract

1 cup all-purpose flour

1 cup whole wheat flour

1 teaspoon baking powder

1 teaspoon baking soda

1/2 teaspoon salt

¼ teaspoon nutmeg

2 Tablespoons cinnamon sugar for topping
Instructions
Preheat the oven to 350° F.  Grease a 9 by 5-inch loaf pan with cooking spray.  Meanwhile, in a large bowl, whisk together the bananas, sugar, butter, eggs, yogurt, and the vanilla and almond extracts.  In another bowl, whisk together the flour, baking powder, baking soda, salt, and the nutmeg.  Gently add the flour mixture to the banana mixture, stirring until just combined.  Pour the batter into the prepared loaf pan and smooth the top.  Gently lay the remaining split banana half on top of the bread, cut-side up, and gently press into the top of the batter. (Reserve the other half for another use!). Sprinkle with the desired amount of cinnamon sugar, then sprinkle with turbinado sugar.  Bake the for about 1 hour and 15 minutes, or until the top is golden brown and risen and a toothpick inserted into the center comes out clean.  Allow the bread to rest in the pan for about 10 minutes before removing it to a wire rack to cool completely.
Notes
For the Cinnamon Sugar: ¼         cup sugar 1          teaspoon ground cinnamon Add ingredients to a small mixing bowl and stir until thoroughly combined.