Salmon bisque has, perhaps oddly enough, figured frequently into my happy childhood memories of dining out on vacation with my family.  I absolutely gorged myself on it when in Alaska–literally, much to our tour guide's amusement I scraped the bottom of a cauldron full of salmon bisque after getting not just seconds, but thirds, after a strenuous day of panning for gold and watching out for grizzlies in Denali National Park.  And in the lower-48, I almost always ordered it at one of my favorite restaurants in all the world, Robin's, in the small, coastal art town of Cambria, California, whenever we visited.  For years I tried to replicate the recipe, because I thought Robin's had the most delicious, sinfully creamy and rich, nourishing, chock-full-of-salmon soup I'd ever tasted.  This soup is great any time of year, but especially comforting when the weather turns chilly out.  It may seem rather fancy, and it does certainly taste special–heavy cream can do that to a soup like nothing else!–but it's surprisingly easy to prepare, and even freezes well.  Along with a crisp salad and warm bread and butter, it is one of my favorite dinners of all time.  This is my homage to Robin's salmon bisque!  It makes enough for six hungry diners, but if you're anything like me when it comes to salmon bisque, don't plan on having any leftovers!
Salmon Bisque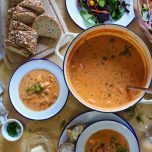 Print This
Ingredients
3 Tablespoons unsalted butter

2 leeks, ends trimmed, halved, and medium-diced

1 stalk celery, diced finely

1 cup Crimini mushrooms, sliced

1 Tablespoon minced fresh garlic

3 cups clam juice or seafood stock

1 14 oz can tomato sauce (without seasonings)

1 teaspoon sea salt

1 teaspoon freshly cracked black pepper

1/3 cup fresh Italian parsley, finely chopped

1 Tablespoon fresh dill, finely chopped

2 cups fresh salmon, bones and skin removed, cut into medium dice

2 cups heavy cream

2 Tablespoons flour

Sour cream for garnish (optional)
Instructions
In a large, heavy-bottomed pot, melt the butter on medium-high heat.  Add the leeks and mushrooms and sauté until the leeks become transparent and the mushrooms begin to brown, approximately seven minutes.  Add the garlic and stir to combine.  When the garlic softens, about one to two minutes more, add the clam juice or seafood stock, tomato sauce, and the salt and pepper.  Stir to combine.  When the soup has come to a simmer, turn the heat down to medium-low and add the salmon and stir to combine.  Allow the salmon to cook, about five minutes, stirring occasionally.  Meanwhile, in a mixing bowl, whisk the flour into the cream.  Slowly add the cream mixture into the soup, stirring gently.  Add in most of the chopped parsley and dill, reserving some for garnish.  Allow the soup to simmer for five more minutes.  Remove from the heat and serve immediately, garnished with the remaining fresh herbs or sprigs of fresh dill and a swirl of sour cream.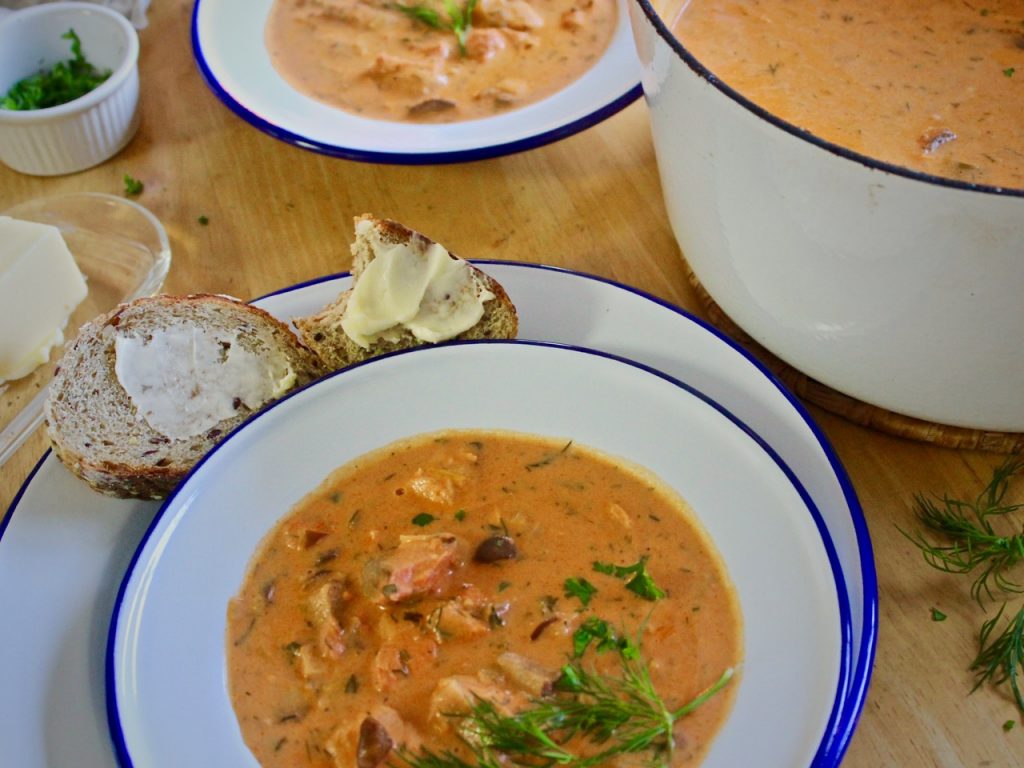 Notes
If you're not going to be eating this soup right away, allow it to cool completely before spooning it into airtight containers to refrigerate or freeze. When you need it, it's best to allow frozen soup to defrost overnight in the refrigerator, but if time constraints don't allow, you can cook the soup straight from frozen: decant the frozen soup into a saucepan set over medium-low heat, add a tablespoon of water, and cover. Stir occasionally to heat through and enjoy!