Sometimes we think of salads as a summer meal, but around the holidays–when rich, celebratory comfort foods are so often on offer–I think of a seasonally appropriate salad like this as a great way to detox in-between indulgences.  It's also a great way to use up any leftover roasted root vegetables you have around if you, like me, find yourself making sheet pans full on heavy rotation.  To make this salad a real meal, I absolutely love adding sorghum.  Sorghum is familiar to most Southerners in its syrup form; similar to molasses or maple syrup but more mild.  Outside of the South, sorghum syrup is almost impossible to find and, in my experience, most people have never heard of it.  The grain of the sorghum plant looks very similar to Israeli cous cous in size and with its round shape.  When cooked, it has a delightful chewiness and a faintly sweet, nutty flavor.  In this particular salad, the bouncy texture and subtle sweetness of the sorghum grain is a fantastic complement to a bitter green simply dressed, and the more savory sweetness of roasted vegetables–just the thing to fuel a gift wrapping spree and, bonus, clear out the fridge, at this time of year!  This salad is great when it's a combination of warm and cool ingredients, or when everything is at room temperature.  It's very forgiving, and we can all use a little more of that during the holidays!
Autumn Roasted Vegetable and Arugula Detox Salad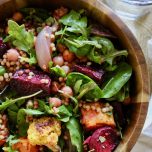 Print This
Ingredients
6 beets, peeled and quartered

2 sweet potatoes, peeled and large diced

1 small head golden cauliflower, cut into large florets

2 red onions, skin removed and cut into wedges

2 Tablespoons olive oil

2 teaspoons sea salt

1 teaspoon freshly ground black pepper

1 12.5 oz can garbanzo beans, drained and rinsed

1 cup uncooked sorghum grains (if you can't find sorghum, farro or quinoa make a great substitute)

3 Tablespoons vinaigrette dressing

12 oz. arugula, rinsed and dried
Instructions
Preheat the oven to 425°.  Place the beets, sweet potatoes, cauliflower florets, and red onions on a large sheet pan.  Drizzle the olive oil over the vegetables, sprinkle with pepper and 1 teaspoon of the sea salt, and toss to combine.  Roast the vegetables, turning them halfway through, until they are tender and lightly caramelized, about 45 minutes.  Remove from the oven and set aside.  Meanwhile, bring a large sauce pan of water seasoned with the remaining salt to boil.  Add the sorghum grains and stir to combine.  Cover and reduce the heat to low, simmering until the grains are tender, about 30 minutes.  Drain the sorghum and allow it to cool to room temperature.  In a mixing bowl, combine the arugula, dressing, garbanzo beans, cooled sorghum, and the roasted vegetables.  Toss until everything is evenly combined and serve.