Hi, my name is Piper, and I am a card-carrying pumpkin-aholic.  From late August through January every year, I don't need any excuse to bake with pumpkin.  Waffles, creme brûlée, cake, cheesecake, cookies, what-have-you, if it's a sweet treat, I always think, "But wouldn't it be better if it were pumpkin?"  This always seems to be especially true for the sacrosanct Saturday Morning Breakfast.  Every weekend is a chance to savor something delectable and luxuriate with the paper and a cup or two of coffee, and when we're home, this is one of our most cherished rituals.  Lately, I have been on a brown butter kick, so it's only natural that that delectably nutty, caramel-y ingredient would find its way into these updated, bakery-style muffins.  The crumb topping and cream cheese filling take them over the top, but if you're short on time or inclination, they are every bit as special and delicious without one or the other.  As the weekend approaches, give these mouth-watering pumpkin babies a try.  …And–this is important!–don't skimp on the Bing Crosby.
Pumpkin Brown Butter Crumb Muffins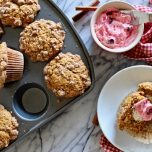 Print This
Ingredients
2 cups all-purpose flour

1 Tablespoon baking soda

1/4 teaspoon salt

1 teaspoons cinnamon

1/4 teaspoon ground cloves

1/4 teaspoon nutmeg

3/4 cup granulated sugar

2 eggs, beaten

3/4 cup pumpkin puree

1 cup unsalted butter

1 teaspoon vanilla extract

6 ounces cream cheese, at room temperature

Crumb Topping

6 Tablespoons unsalted butter

1/3 cup flour

1/4 cup brown sugar

1 teaspoon cinnamon
Instructions
Preheat the oven to  375°.  Meanwhile, in a sauté pan set over medium-low heat, melt the butter.  Continue cooking the butter, stirring frequently, until it has foamed and the milk solids have sunk to the bottom of the pan.  When the milk solids have turned a light golden, immediately remove from the heat and pour into a large mixing bowl, taking care that the browned particulate matter in the bottom is discarded.  Allow the mixture to cool slightly before adding in 1/2 cup of the granulated sugar, one of the two eggs, vanilla extract, and the pumpkin puree.  Stir to combine evenly.  In another bowl, sift together the flour, baking soda, salt, cinnamon, cloves, and nutmeg.  In a third bowl or the bowl of a stand mixer, combine the cream cheese with the remaining 1/4 cup of granulated sugar and the remaining egg.  Stir to combine evenly and set aside.  Meanwhile, make the crumb topping by combining the butter, flour, brown sugar and cinnamon.  Using a fork or your fingers, cut the mixture together until it forms crumbling clumps about the size of a pea.  Line a standard muffin tin with muffin cups.  Using an ice cream scoop, fill each muffin cup about a third of the way up.  Using a teaspoon, carefully drop a dollop of the cream cheese mixture into the center of each well of muffin batter.  Scoop the remaining muffin batter on top, filling each muffin cup to 3/4 of the way full.  Carefully distribute the crumble topping atop each muffin, and bake for 25 minutes, or until a toothpick inserted into the muffin batter–not the cream cheese center–comes out clean.  Serve and enjoy!
Notes
These muffins are pretty over-the-top all on their own, but to take things to the nom-nom-Nth degree, they are absolutely delicious and perfect for a special holiday breakfast slathered warm with cranberry butter! Boxed up and tied with pretty bakers' twine, these also make a fantastic gift for a teacher, colleague, or friend--no occasion needed!