The May Gray and June Gloom have mostly burned away; the Fourth of July is almost upon us and summer is in full swing. I don't know how it happened so fast, but there you go.
Summer brings with it a slew of weekend cookouts loaded up with burgers, dogs, ice cream, potato salad–I could go on–suffice to say, with so many irresistible delicacies of the season, during the week, I like to cook pretty light and healthy to balance things out. I tend to crave simple, vegetable-heavy dinners that don't involve the oven or even, really, the stove too much.
I especially love topping hearty salads with lots of colors and textures–a perfect way to use up the farmer's market produce I always have too much of in my fridge–with simple seared salmon. I usually ask for the fat middle pieces of a fillet, so that even though the outsides are seared to a sharp crisp, the insides will still be buttery soft and silky rare. That kind of salmon is a huge contrast to the sometimes-dry poached or grilled salmon I remember from childhood; learning to cook it that way was a revelation and 9 times out of 10, that's what we do in our house. As for the dressing, it doesn't have to be homemade Caesar–or even Caesar–although it pairs particularly well with the big shavings of parmesan cheese I've thrown in here. This salad is very forgiving. Balsamic, a sweeter red wine vinegar vinaigrette, or even honey mustard would be good. Whatever you've got in your fridge! …Gotta make room for that giant watermelon somehow, right?
Kale Salad with Blackened Salmon and Homemade Caesar Dressing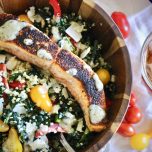 Print This
Ingredients
1 teaspoon sea salt
1/2 teaspoon freshly cracked black pepper
1/4 teaspoon granulated garlic
1/4 teaspoon paprika
1 Tablespoon extra-virgin olive oil
4 salmon fillets of approximately 1/4 lb. each
1 bunch dark kale, such as dinosaur kale, washed and dried
1 cup quinoa, cooked according to the package directions, slightly cooled
1 pint cherry tomatoes, halved
1 red bell pepper, thinly sliced, membranes discarded
1/4 cup thinly sliced red onion
1/2 cup fresh parmesan shavings
1/4 cup Caesar dressing
Instructions
In a small bowl, mix the spices together.  Rinse the salmon fillets and pat them dry with a paper towel.  Rub each fillet evenly with the olive oil, and sprinkle on the spice mixture.  Heat a large cast-iron skillet over high heat until the pan is almost smoking.  Place the fillets in the pan, skin-side up if there is a skin-side, and allow to fully crisp and brown–about 3 minutes.  Flip carefully, and cook on the second side for about 2 minutes, until the sides of the fillets show the edges and ends opaque but a rare spot remaining in the middle.  Remove from the heat and set aside.  Meanwhile, strip the kale stems out of the leaves and stack the leaves.  Slice the leaves into ribbons and place into a large salad bowl.  For one minute, using your hands, massage the leaves vigorously until they've changed color to a darker green.  Add the quinoa, cherry tomatoes, bell peppers, red onion, and parmesan shavings.  Toss evenly with the dressing, and divide between four bowls, topping each with a salmon fillet.