Frosé?  So 2019.  I've got the next big thing right here, y'all.  Not too sweet, just a little bit effervescent, frozen, and oh-so-festive, I'd like to introduce you to the Aperol Slushie. Remember Aperol Spritzes?  I've been a huge fan for years, and it doesn't hurt that my favorite color happens to be orange.  My favorite cocktails, as a rule, tend to be simple, and I prefer things a little on the dry, savory, or even bitter side.  So back in the day when I discovered Aperol, an Italian aperitif, I was a quick convert to the famous spritz.  Like Campari, Aperol is low in alcohol content and a touch bitter; perfect for mixing with champagne or Prosecco for an uncomplicated, refreshing cocktail.  Add a garnish of orange slice and you're on your way to a good time.
Well, this summer (and spring… and now fall, but who's counting?) has been a strange time, to say the least.  I have personally not been to a restaurant, bar, salon, or anywhere other than my own home, backyard, and the hospital–to give birth, minor detail–for over half a year.  So especially with the weather so hot, my husband and I have been looking for little ways that we can have a fun treat and make things feel celebratory and just different.  Last night we had another couple over for a socially distant backyard dinner and I thought, "Hmm, I used to make Cheerwine slushies in my home ice cream maker, and frosé is great… what if…?"  We were all delighted with this frozen Aperol spritz and agreed that it gave our fairly subdued Labor Day celebration a much needed celebratory je ne sais quoi.  If you've been feeling a little stir crazy and hot, sometimes a little frozen tipple can take the edge off.  So break out your home ice cream maker and mix up a batch of this magically simple cocktail for a tasty change of pace.  As the Italians say, chin chin!
Aperol Slushie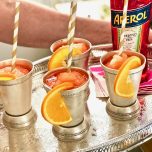 Print This
Ingredients
1 bottle Prosecco or champagne (5 cups), chilled

1 cup Aperol liqueur, chilled

1 orange, sliced, for garnish
Instructions
Freeze the basin of your ice cream maker according to the manufacturer's directions.  When ready to make the slushies, attach the frozen basin to the ice cream maker and turn it on.  Add the champagne, slowly to avoid too much foaming, and the Aperol.  Allow the mixture to freeze until the agitating has formed sufficient ice crystals and it has a uniform slushie consistency.  Remove and spoon into cups, garnishing with an orange slice.  Serve immediately and enjoy!